Robotic Grinding Casting Fettling CNC Grinding Casting Fettling

- Processes Machine and Equipment Supplier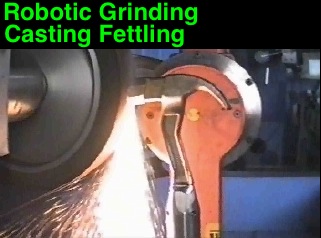 Robotic Grinding Casting Fettling CNC Grinding Casting Fettling
Alvar Process Technologies has been supplying machinery, processes and equipment for Robotic Grinding , Casting Fettling , CNC Grinding and Casting Fettling for over 30 years.


Alvar Process Technologies YOUTUBE Channel.


Robotic Grinding Casting Fettling CNC Grinding Casting Fettling Workcells.

Alvar Process Technologies will investigate and prepare a serious proposal for anyone with a requirement for machinery equipment or sub contract processing solution for Robotic Grinding Casting Fettling CNC Grinding Casting Fettling operations.

Please navigate to our contact page for further information.


Delivery program Automatic / Robotic Systems ;

STANDARD - STANDARD 4 STATIONS
Delivery program Manual Grinding Machines ;
SMF 350



Alvar Process Technologies augments its provision of expertise in the field of Robotic Grinding and Casting Fettling with its commitment to the customer , this relationship has endured since the late 1970´s.

30 years of experience

We combine two major production branches: the surface processing of metal products, and innovative control engineering for automated equipment.
The advantages of our systems: Optimized work-flow between industrial robot & grinding unit
State-of-the-art grinding process with individually chosen grinding belts and contact discs
Special solutions for the best work flow for your application, for example down-force compensation
for tolerance equalization on the workpiece

If you would like to further investigate the advantages of utilizing our products, please contact us, we will be happy to investigate your finishing requirements.