Electrochemical Deburring Machining Subcontract Processes Machine and Equipment Supplier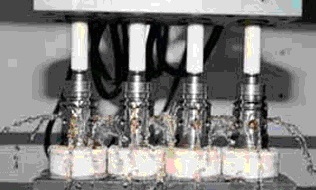 Electrochemical Deburring Machining Subcontract Processes Machine and Equipment Supplier

Electrochemical deburring is the use of electrochemical machining to deburr precision workpieces and edges that are hard-to-reach, such as intersecting holes. The process uses a salt or glycol solution and electricity to dissolve the burr. The electrical current is applied with a specialized tool to reach the burr location. Burrs are removed in 5 to 10 seconds, while the rest of the workpiece is unaffected.

http://en.wikipedia.org/wiki/Burr_(edge).

Alvar has been supplying Electrochemical Deburring Machines since 1988. We have our stock production/demonstration/test machine available for all types of Electrochemical Deburring and Machining operations. From low production projects to mass finishing operations. We are your partner in delivering your finishing standard !

Please call us to discuss your requirements

+44 (0)1455 890 200

info@alvarus.com

Alvar Process Technologies YOUTUBE Channel.